---

JUPYTER/PYTHON ON A RASPBERRY PI ZERO WITH SENSOR ATTACHMENT
The tiny version of the Raspberry Pi computer, the Pi Zero, is barely larger than a stick of gum yet is a full Linux-based computer. It's a bit less powerful than the larger Pi 2 & 3 models, but it uses much less power than they do allowing realistic battery implementation, while still being able to use the same "Hat" add-ons. So it's a great field sensor platform for some applications. Here I experiment with a simple canned sensor Hat made by Pimoroni, the "Enviro pHat", and running a Jupyter server on the Pi Zero to analyze/view the sensor data in a web-based Python notebook.
MULTI-PHASE LINEAR REGRESSION

Code to fit multiple co-joined straight lines to a set of data points. Note the popular name (above, or sometimes "segmented linear regression") for this topic may be a bit misleading, as this is in fact a nonlinear regression problem due to solving for the intersection points of the co-joined lines.
PREDICTIVE FILTERS COMPARISON

A classic textbook for predictive (tracking) filters is
Applied Optimal Estimation
, edited by Gelb (1974). In section 6.1 of that book are two simple radar tracking examples (6.1-2 and 6.1-3) which demonstrate several nonlinear filters. I've programmed up those examples into a Matlab script and added a few additional filters to compare and contrast them in both linear and nonlinear cases.
InvGN: GAUSS-NEWTON NONLINEAR INVERSION CODE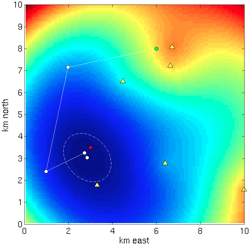 Calculate Tikhonov-regularized, Gauss-Newton nonlinear iterated inversion to solve the damped nonlinear least squares problem, using the
InvGN
toolkit for Matlab/Octave. While
Matlab's optimization toolbox
contains
lsqnonlin
, it does not inherently include the Tikhonov regularization and is only the optimization component, whereas inversion also requires uncertainty quantification. My
InvGN
package is for weakly nonlinear, Tikhonov-regularized, inverse problems (so includes solution uncertainties and resolution quantification), handles both frequentist and Bayesian frameworks, and also works in
Octave
.
MINISIM SIMULATION CLIENT GUI

I wasn't quite sure where in this website to stick this project honestly, so it's here. It's not really physics or data science, more GUI programming, but what the heck...